I have a nice history of establishing and developing web based projects. Here is a list of my projects.

vsetkojenawebe.com – 2007/2008 – vsetkojenawebe.com was my first internet project which I executed at public domain.
brigadapraca.sk – 2010/2011 – Revolution job-board posting work offers.
howtogetfrom.net – 2015 – Travel guides from airports to city centers and vice versa.
dnesletim.com – 2016 – Cheap fly tickets hunting blog.
vsetkojenawebe.com
2007
Description: vsetkojenawebe.com was my first internet project which I executed at public internet domain. It was year 2007 and I started exploring this amazing new world. The world of the Internet was fortunately different than the one today. The search was much difficult and diverse. It was time before things like Android, Facebook or Google Chrome. Thus I developed my first search directory. At vsetkojenawebe.com I learnt to work with Google Adsense advertisement and basic principles of building website (HML, CSS, JavaScript, PHP, webhosting, FTP, Google Analytics). Unfortunately advertisement income could not cover least expenses for hosting. After the first year I ended the project although the number of active users jumped over 30 per day. I still consider it as great success for that time.
Development: For project was beautiful the fact that since first version I had a list of cool functions I would like to put in place. (e.g. custom background, RSS news, …). Many of these function started appearing years later in other services backed by big companies. E.g. iGoogle, Bing backed by Google and Microsoft. Part of the logo I borrowed from the movie the Hitchhiker guide to the galaxy.
Screenshots:
Version 1.0
Version 2.0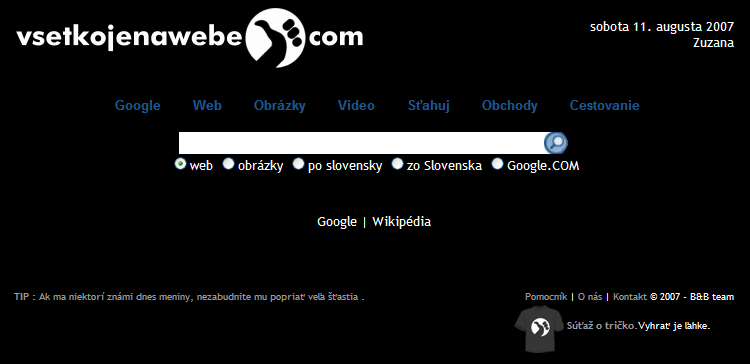 brigadapraca.sk
Description: brigadapraca.sk was unique portal offering full time and part time jobs. This portal was created in September 2010 when the world economic crisis was in its peak in the Slovakia. brigadapraca.sk was jobportal publishing new offers for free. Thanks to its ultra simple form anybody could place a new offer quick and with ease. The portal was aimed for small companies and entrepreneurs.
brigadapraca.sk was from the beginning in aim of big job-offering portals on the market. You see, reasons were simple. They were coming from innovative approach for publishing the work offer:
Publishing the job offers was for free for anybody. In year 2010 peak of recession hit the Slovakia. Companies weren't hiring at all, they were saving everywhere.  Big job-offering portals did not realize the fact, that asking money for their services is naive during time of crisis. For low interest biggest job portal started even publishing jobs from governmental unemployment offices.
Unlimited time publishing for job offers. Big job portals are limiting job-offer publishing date despite the fact employer did not find new employee. Such portals earn money on every single job publishment. Vice-versa companies only lose money till they do not find the right person. This is contra-productive and in time of crisis bold.
Inserting the job listing was possible without registration. Filling up the form with predefined text took less than a minute. Registration was not necessary since all contact details could be in the job offer.
In the time of crisis portal was focussing on small entrepreneurs. brigadapraca.sk was focusing on small companies and individuals, not on work agencies. Why? In time of crisis you had higher chance to find job direct than over the job agency. So it made more sense to focus on local offers, than target global market.
brigadapraca.sk was not big portal so everything was for free. Only 1 person was necessary for servicing the portal. Amount of the work took only few minutes per day. Portal did not need to generate huge income to cover all expenses.
Trends which started brigadapraca.sk job-offering portal started to appear elsewhere after the crisis.
I have sold brigadapraca.sk in august 2011. New owner changed design and brought many advertisement spaces.
Development: Idea and inspiration for whole portal and design came from abroad. At first I was intending to name the site "brigadaprace" what is is play with words. A name creates image of communism and socialism. This would be also reflected in website style. Visitors would be welcomed with giant red stare and slogan "work for everybody". I put this idea aside while in the end I did not want anything communistic be connecting with this website.
howtogetfrom.net
Description: howtogetfrom.net was a simple blog created for very itneresting topics. Since I love traveling
dnesletim.com
I developed custom theme and
I learned a lot on this one.
During the one month I was providing every.
I have decided I do not want to continue in blogs focusing on news.